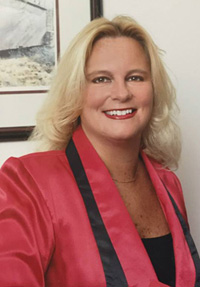 Dr. Darla Brice is dedicated to helping their patients achieve healthy mouths and attractive smiles. They combine exceptional general and periodontal dental treatment in a beautiful, relaxed environment utilizing the latest technology that dentistry has to offer.
Dr. Brice earned her Doctorate of Dental Surgery from the University of North Carolina, Chapel Hill. She then went on to complete her hospital residency at the Medical College of Pennsylvania. She completed her specialty training in Periodontology and Implant Dentistry along with a Master's Degree at the University of Pennsylvania School of Dental Medicine where she received the J. George Coslet Scholarship Award for Excellence in Periodontology.
In practice, since 1997, Dr. Brice has become a master of her craft, utilizing her extensive training and perfecting her technique. She has been interviewed on local television, radio, Delaware Today Magazine and has been featured in the Delaware News Journal discussing various topics in Periodontology. Dr. Brice has published articles in the Journal of Periodontology, the Compendium of Continuing Dental Education, and the New Zealand Dental Journal. She has given various lectures at local dental schools, hospital residency programs, dental hygiene and dental assisting schools, along with lectures to other dentists in local study clubs.
Dr. Brice has taught as a Clinical Associate Professor, Department of Periodontology, Temple University, Kornberg School of Dentistry. She teaches and is on staff at Delaware Technical and Community College, Department of Dental Hygiene, Wilmington, Delaware where she also served on the Dental Hygiene Advisory Board.
Dr. Brice is on staff at St. Francis Life and participates in the care of some of the veterans from The Veterans Administration in Elsmere, Delaware. She has participated in the program for underprivileged children, in the Christina School District at Delcastle High School. She has also performed dentistry for underprivileged children abroad in Mexico.
Dr. Brice is an active member of the American Academy of Periodontology, the American Dental Association and the Delaware State Dental Society, where she has served on various committees.
In her free time Dr. Brice enjoys her family, friends, the beach and her cat, Binky.
---